Note: This post is old. I wrote it many years ago, before I knew the wonders of capital letters and full sentences. Since this is a journal of my life, I've chosen not to delete or hide these posts. They're my personal version of caveman drawings. I think they show how much I've grown and changed. Please keep that in mind if you decide to keep reading. Thanks and good luck!
Photography Wishlist
In the last few years photography has grown to be one of my biggest hobbies (after spending inordinate amounts of time on the Internet, of course). I've amassed a pretty respectable collection of gear since I got my first dSLR in 2001 (I had a film SLR with 2 lenses before that), but there are still a few bits missing here and there that I'd love to add to my arsenal. The good news is that I've managed to get a good number of the things that I had on my Geek Wishlist in 2007, but it's time for an update. Some of these are completely ridiculous things that I would never be able to afford, others don't exist, but I'd like them to, and then there are the more realistic ones. Why do I need all of this stuff, you ask? Well for one, I'm addicted to gadgets. But I also think that having the right tools at your disposal is the best way to get better at what you're trying to do (I mean really, how would I have become an internet addict if I didn't have a computer when I was 5?!).
So anyway…on with the list:
Gear for Capturing
Sigma 30mm f/1.4
I only recently discovered this lens and I've fallen in love with it. A few of my favorite flickr photographers use it as their primary lens and their photos are fantastic. Yes, it's the photographer, not the lens, but it would be nice to have a shorter prime lens, and f/1.4 would make me a very happy camper. Take a look at some of the best shots on Flickr tagged with sigma 30mm. This is probably the item I covet the most at the moment. The Damage: Currently $384.24 (on sale) at Amazon
.
Canon 10-22mm f/3.5-4.5
I used this lens once over the summer and I absolutely loved it. It doesn't distort very much and it gets a great wide shot. My current wide is 11-18mm, which isn't so bad, but it's an f/4.5-5.6 and the glass isn't very high quality. I'm a big fan of wide angle shots so it'd be nice to have some quality glass for it. I'd be willing to sell my current one for this one! The Damage: $710 [Amazon]
Sigma 8mm f/3.5
I got to try this lens a few months ago and I thought it was the coolest thing ever. According to the person who let me try it out, it gives a 180º view. I got my own feet in the shot! This is definitely more of a toy lens than anything else, but I think it's a good option for a fisheye lens. I would say it's lower on the priority list, but hey, this is a wishlist after all! The Damage: $689
[Amazon]
Canon EOS 5D Mark II
Who doesn't want a 5D? OK, I'd be perfectly happy with a 1D Mark III
, I think it's due for an upgrade sometime soon. The 5D has gotten some great reviews and everyone I know who has one loves it to death. Ever since I shot with the Nikon D700 and D3, both of which have full-frame sensors, I've been dying to have a camera that doesn't require me to take crop factor into account. I've been warned that it's not the greatest lens for shooting sports, but considering I only have another few months where that is a major concern, I'm OK with that minor issue. The Damage: $3,449.99 (body only) [Amazon]
Gear for Processing
Adobe Creative Suite CS4 (Design Premium)
When I first downloaded the trial for CS4 I was really angry with it. Adobe had moved around the keyboard shortcuts and it was killing my workflow. I hadn't gotten used to it before the trial expired, but when I went back to CS3 I found myself wishing I had some of the CS4 features back, especially when it came to processing RAW photos. The options there are so much better in CS4 including such simple things like previewing your crop or vignetting after the crop rather than the image as a whole. It's the little things that count! And hey, I'm sure it won't be that difficult to remap the keyboard shortcuts back to where I like them! The Damage: $1,699.49 (Cheaper at The Cornell Store with student discount) [Amazon]
Photo Mechanic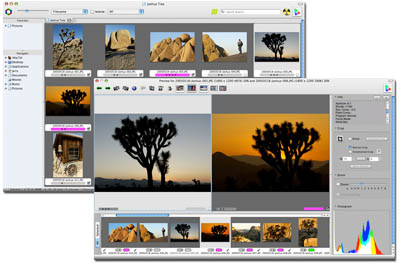 We use Photo Mechanic to organize our photos at The Sun and I've gotten so used to the workflow that I find it difficult to work with other organization tools. I've tried Bridge, and it's what I use primarily now, but I don't really like the organization of the tagging/keywording features. They're too clunky and unfriendly. Photo Mechanic is simplistic but it lets me organize and retreive my files the way I want them. The Damage: $135 [Camera Bits]
30″ ACD or 30″ Dell LCD
This one was on my original list and it's still there. My current monitor is 20″, which is fine, but I'd love to view my photos at 100% if I could! I've read/heard that the Dell's colors are actually better than the Apple 30″, but I'd be perfectly fine with either. The Damage: $1,772.36 for the ACD. [Amazon]
Wishful Thinking
Any Leica, really
With a 50mm 1.0 lens
lens. I think that if I were ever to acquire a Leica it would make the most sense to get a film one because that's what makes Leica's special, but the more pragmatic part of my brain is telling me to get a digital body so that I don't have to pay for photo processing. I'm not picky. I'll take any of them! The Damage : A painful $3995 for the digital body
, $4395+ for the film body
.
A long time ago I decided that if I were to start any sort of collection of objects it would be antique cameras. I think it's the perfect fit for me – I love photography, I love technology, I love "artifacts" of the pre-digital days, and cameras are generally smaller than a collection of old Apple products. Right now my collection only consists of this really random video camera that I found in my gram's house from circa 1960-70 and my first digital camera – a 1.3MP Sony Cybershot (yes, it's an antique!). They're nifty, but not as cool as an old camera with a bellow and medium format film. Oh and I'd also love an original Kodak Brownie.
Openness
This one sounds really weird, but I think it's important so it's going on my list. Yes, we all know that I spend a lot of time on Flickr, but the one thing that irritates the heck out of me is people who don't share their EXIF data! I mean really, is it that private? When I see a shot I like, the first thing I do is scroll down to see what type of camera the person used and then I'll click on "More properties" to check out their focal length, aperture, and all of that good stuff. I think it's the best way to learn apart from actually taking photos and it saddens me that a lot of the best photographers on Flickr don't share that information. It's not like it devalues their work and it would be a great help to people who want to become better photographers! The Damage: A few clicks of the mouse. (Ok, I'll step off of my soap box now and continue the list..)
Miscellany
Apart from all of this, there's the obvious: More CF cards, lens cleaner, a second camera bag, a trip around the world, extra batteries, a battery pack with a second shutter release, a remote shutter release, flash accessories like a diffuser or pocket wizards, the lifetime Flickr Pro membership I asked for in my original list, and well, I could go on all day.